this whole parenting thing has been shaking the core of me. in a very good, yet hard to accept certain things way. i never dreamed it would be like this. i just thought. "i'm good with kids, it will all work out." and sometimes i think i need to go back to that and stop overanalyzing every little thing. what i'm learning now and i think its the hardest. is that i make mistakes, lots of them. and i need to make even more.
mistakes are a good thing, they are proof that we are still living, breathing and trying.
i realized this tonight over cheese and crackers.
i wanted to spread bayleys kaukauna chedder spread onto her ritz cracker for her, but she wanted to do it. it was painful for me to think that the hard, cold, thick cheese was going to crumble that delicate little cracker into breadcrumbs and then it would be a big failure for her. seriously, i know. it's just a cracker. so i stopped trying to persuade her into letting me do it and i watched her. i watched her struggle with the knife, then with her fingers and it was a big ol mess of processed crap. but then finally, she reached a point where she was satisfied with her work and i was so relieved. (i put the cheese on the other two crackers by the way.) i'm trying, really i am.
so failure is really hard for me, but i'm realizing that my fear of failure is actually making me run in circles. scared, safe circles doing the same things and getting the same results. and i don't want to do that, i want to take chances and strike out (well not really, but i want to want to strike out) and then feel good about my risks and achievements. and i want this even more for bayley. spill the milk, drop the fork, make a mess, make a bigger mess and then smile because you're still trying and it's getting a little easier everyday to fail and get back up again.
off to see how many messes i can make!!!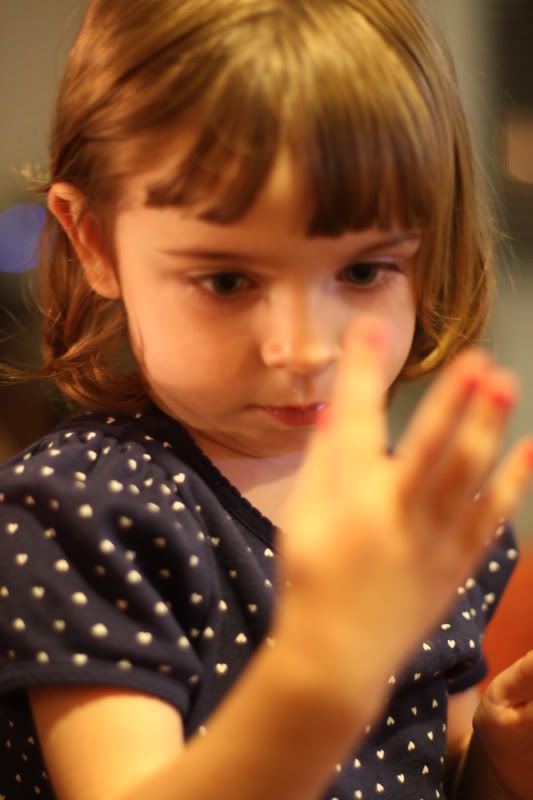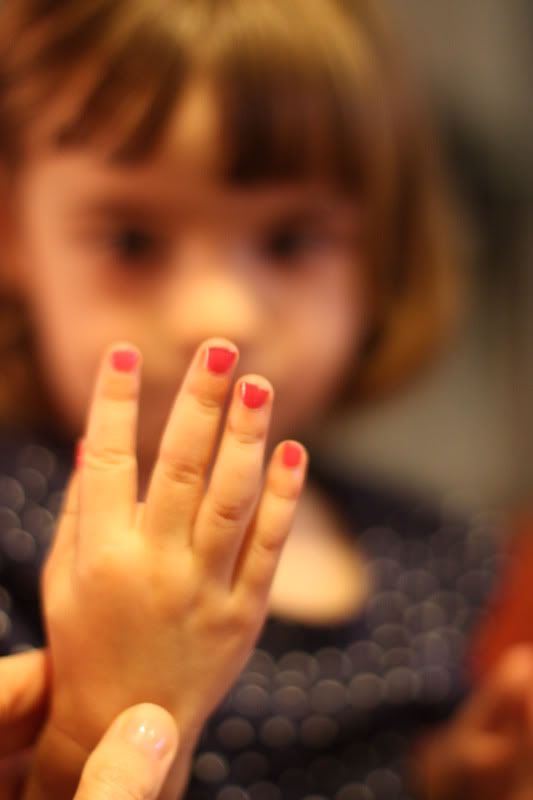 first manicure, she is so proud of her pretty pink fingernails