Thursday, December 31, 2009
Posted by

Abbey Bernardi
at 11:32 PM
0 leave a comment here

well i suppose i should post our Christmas happenings before the new year hits. i've thought about it, but after trying to get over a bad cold/cough and doing nine loads of laundry nothing sounds very appealing except sleeping.
we had a wonderful holiday, and I am learning...
to try to slow down and savor every moment instead of rushing about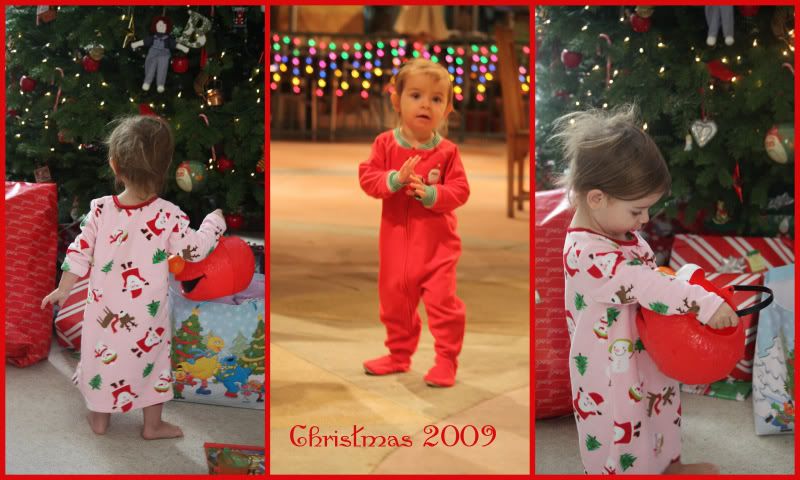 the best gift of all...
we are so lucky and blessed to have such a sweet baby, i never thought she would be so affectionate at such a young age, but she is. tonight at dinner she tried to give 2 strangers hugs and followed with her "awwwwww". the other day adam and i were hugging and she quickly scampered over to say "awwwwwww" and reach out her arms to join in. she gives the sweetest kisses these days too. she kisses pictures of people and the phone when she's listening to someone talk. she is just developing such a personality. and i love it so much.
she loves letters and her favorite ones are "A" and "W" pronounced "ubble-you" too cute, i can't stand it!!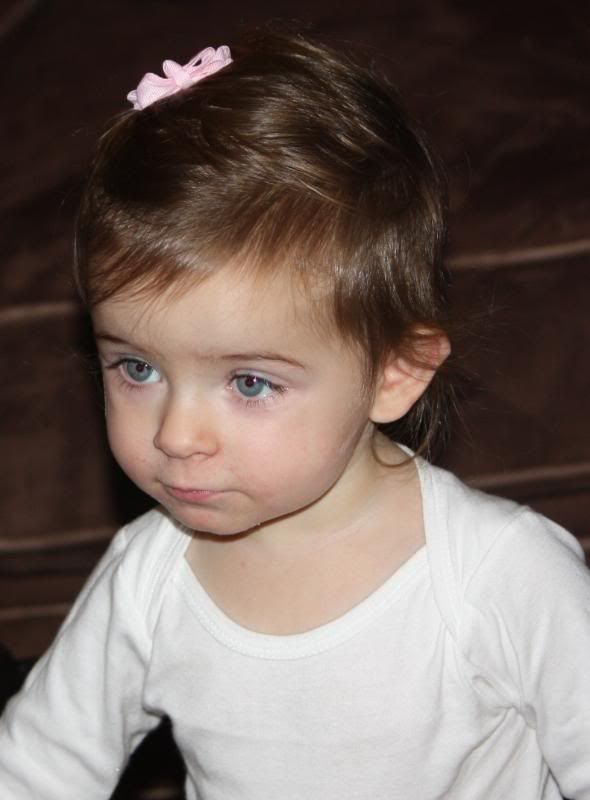 helping make cookies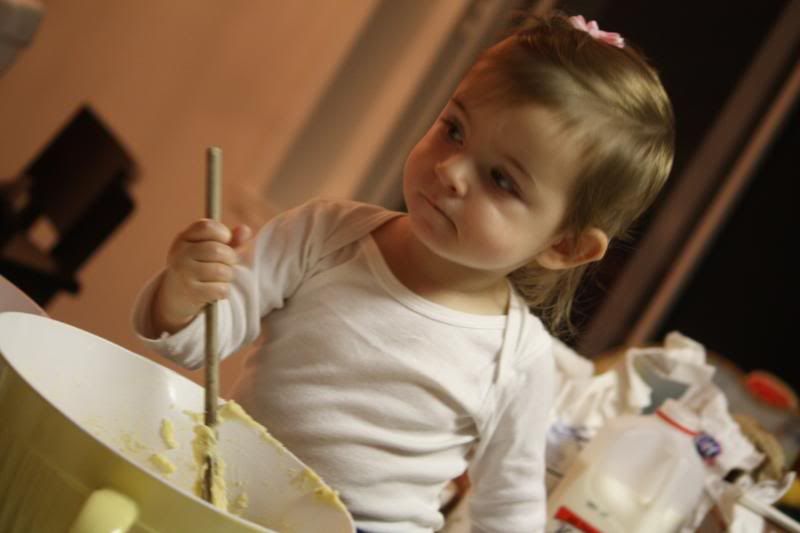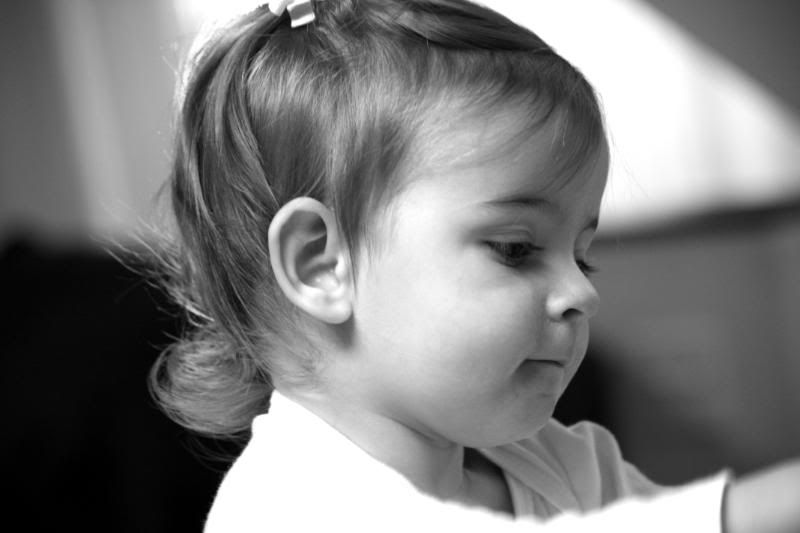 adam made these and decorated them...i was so impressed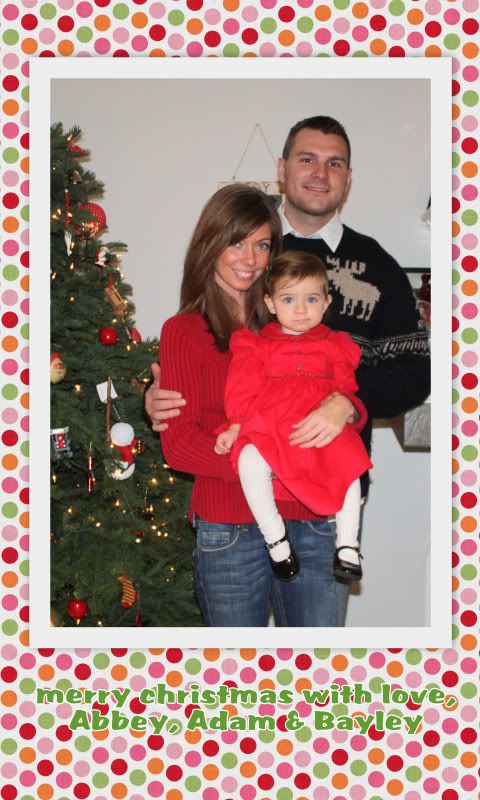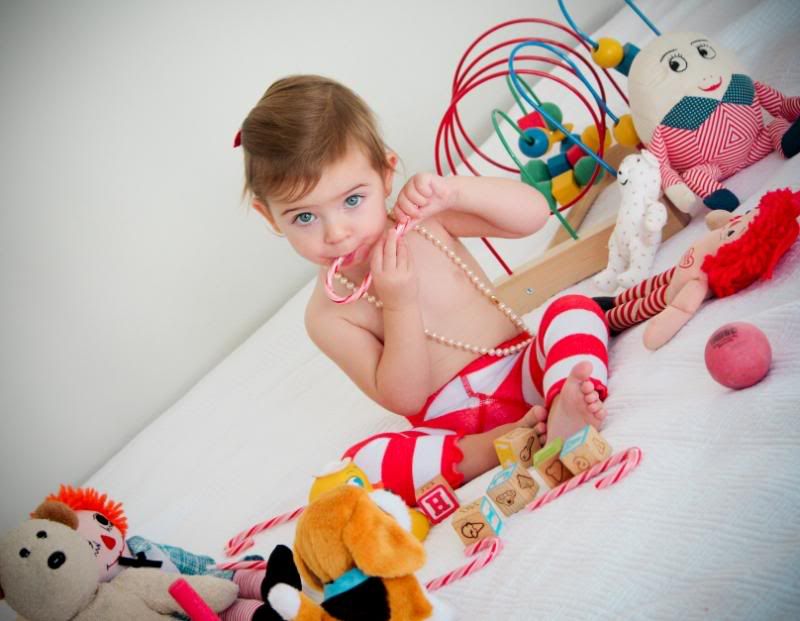 up to something...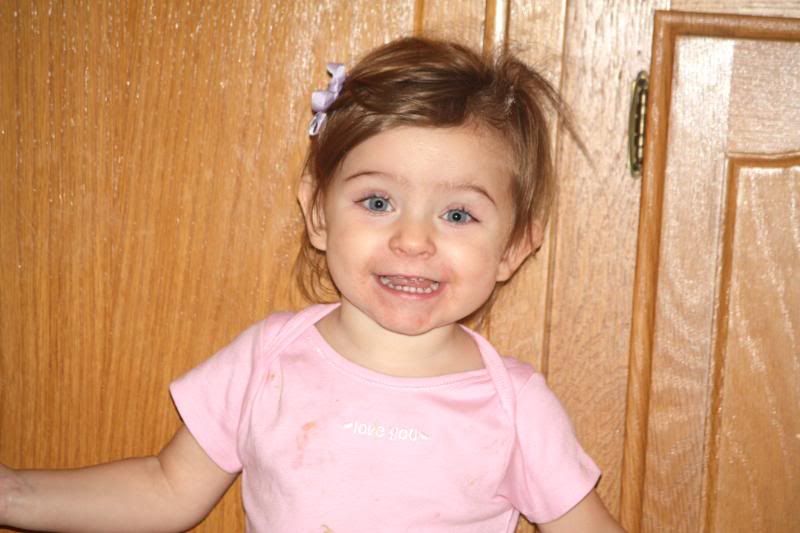 we took a trip up to santa barbara and went to the farmers market there, it was so fun and festive. we bought some really pretty flowers i'd never seen before, too bad i was severely allergic to them and had to put them outside.....hmmmm i think they are still out there...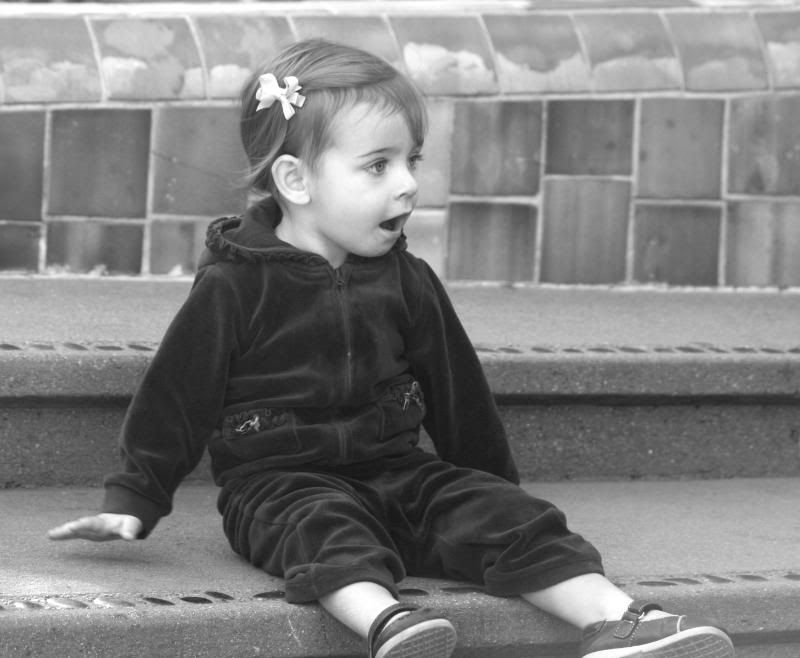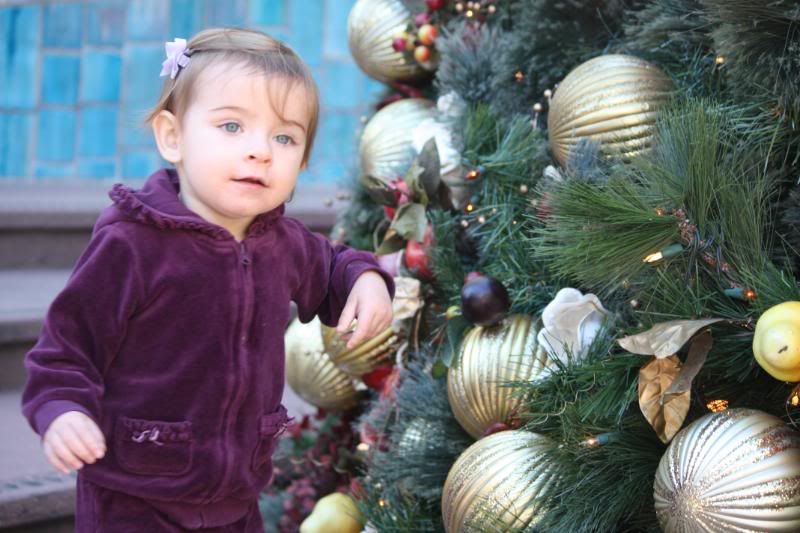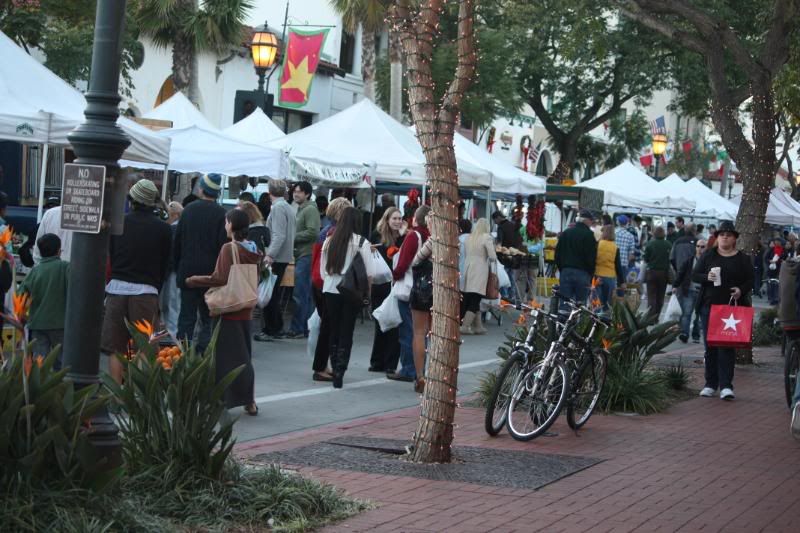 my grandma made her this hat, she's starting to wear them again. yay!!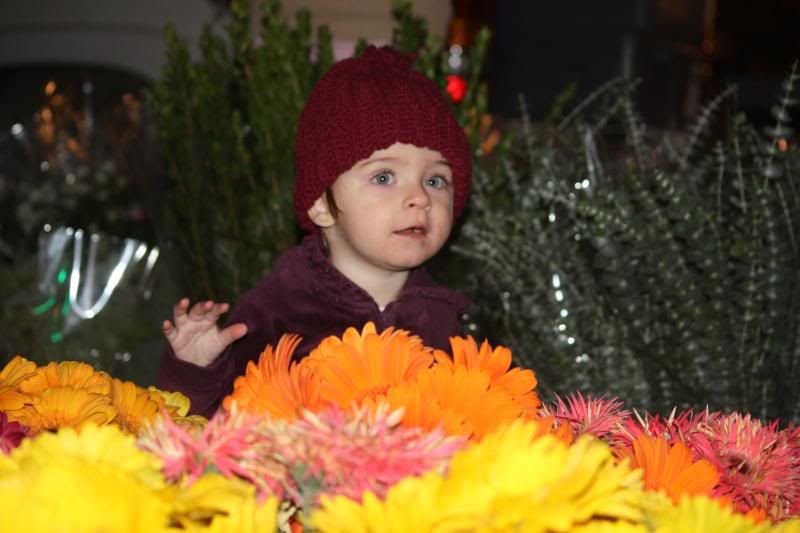 i found her here the other day...she's a mischieveous one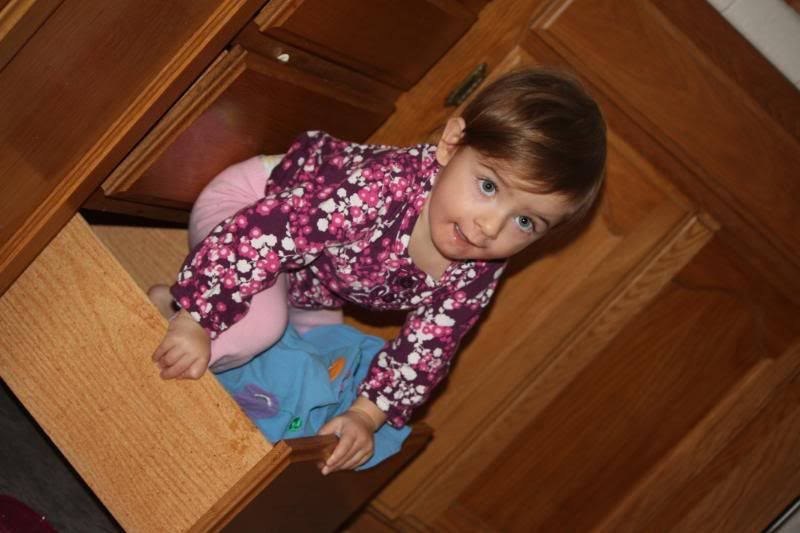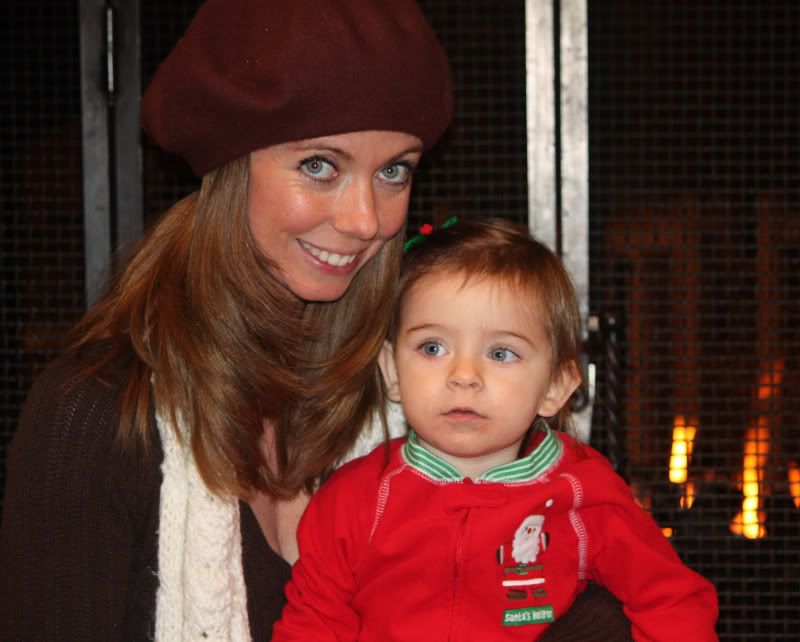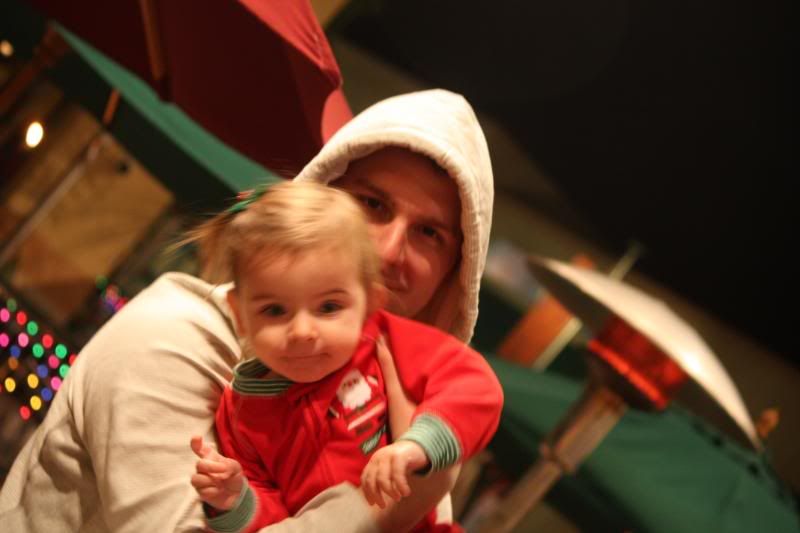 can you believe this bed head??
go bears!!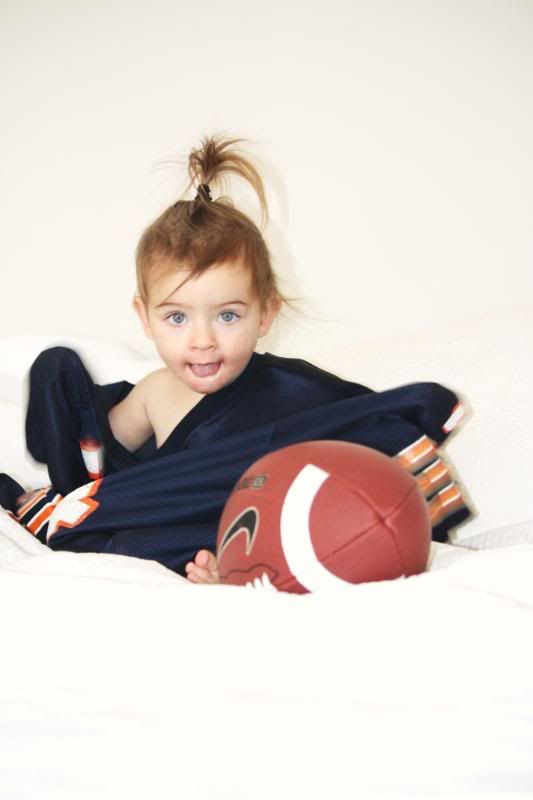 chicken and dumplings on christmas eve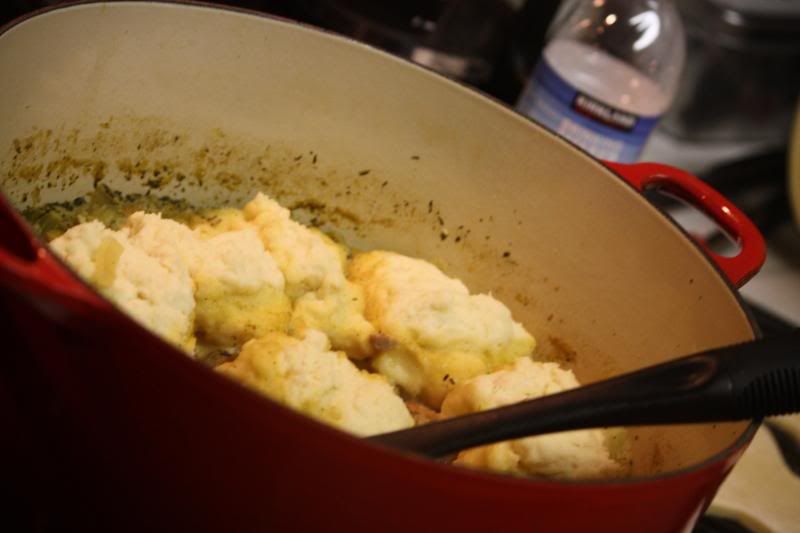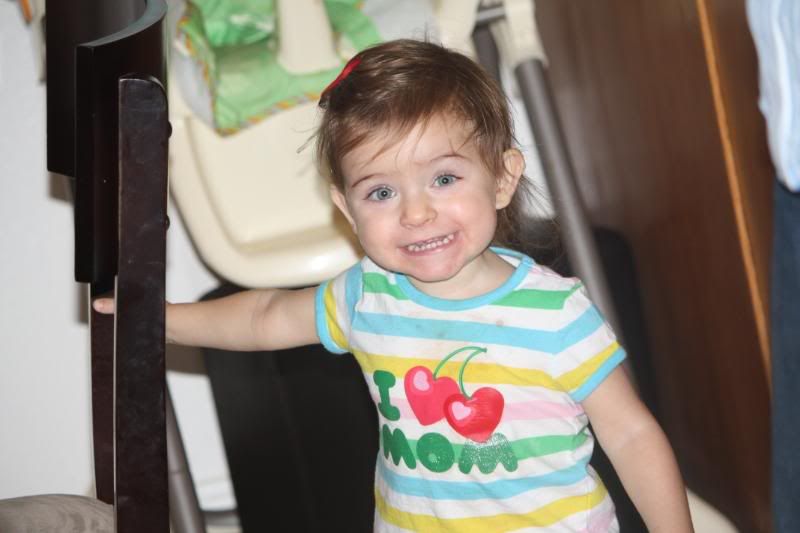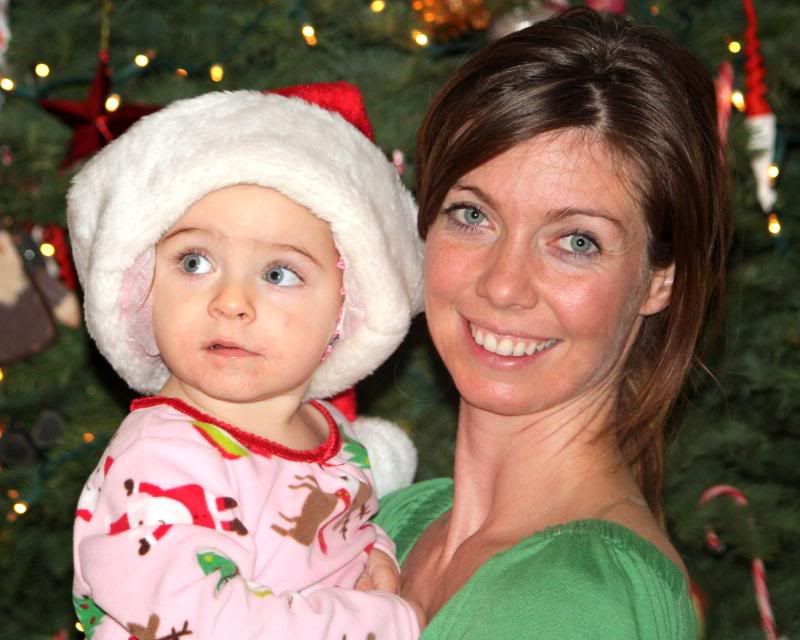 she says santa and hohoho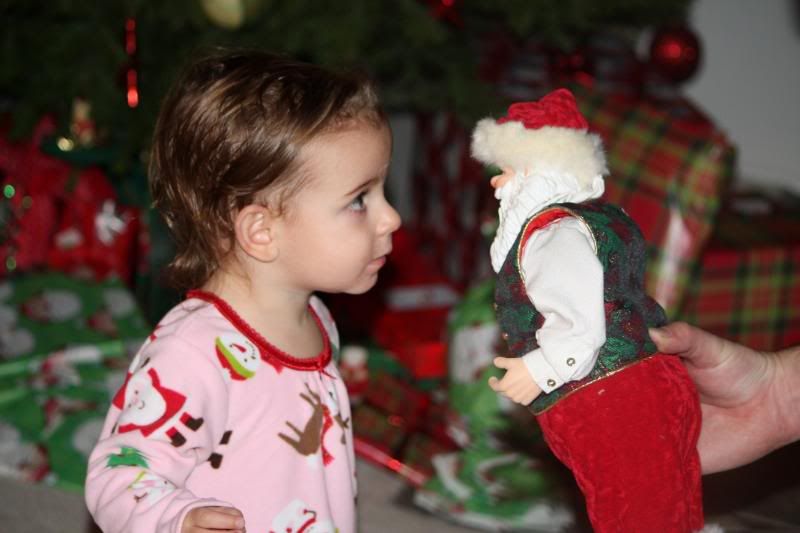 her kitchen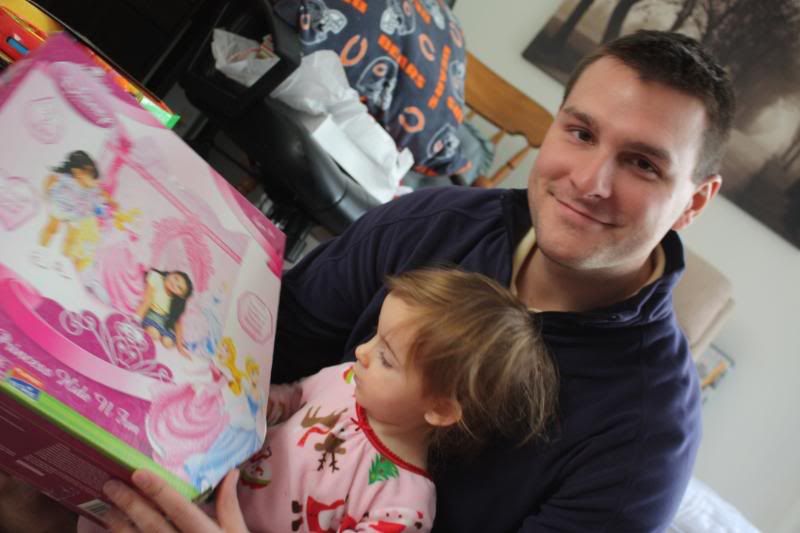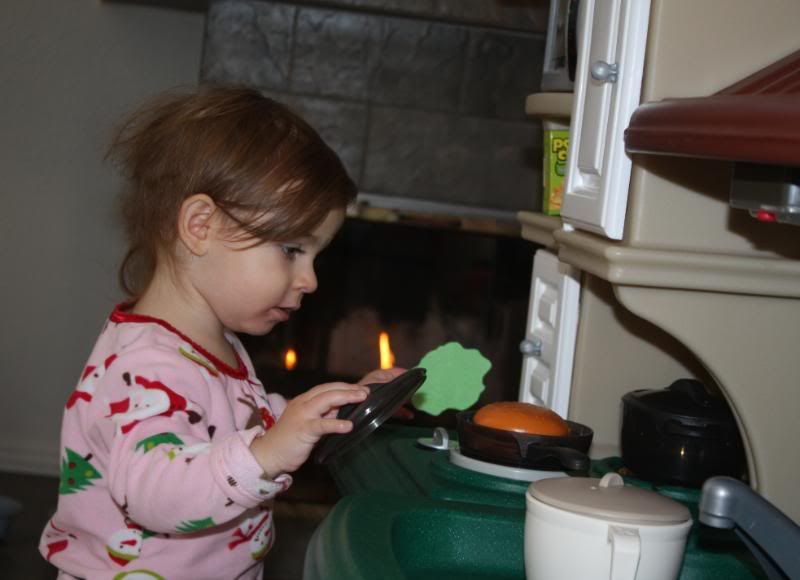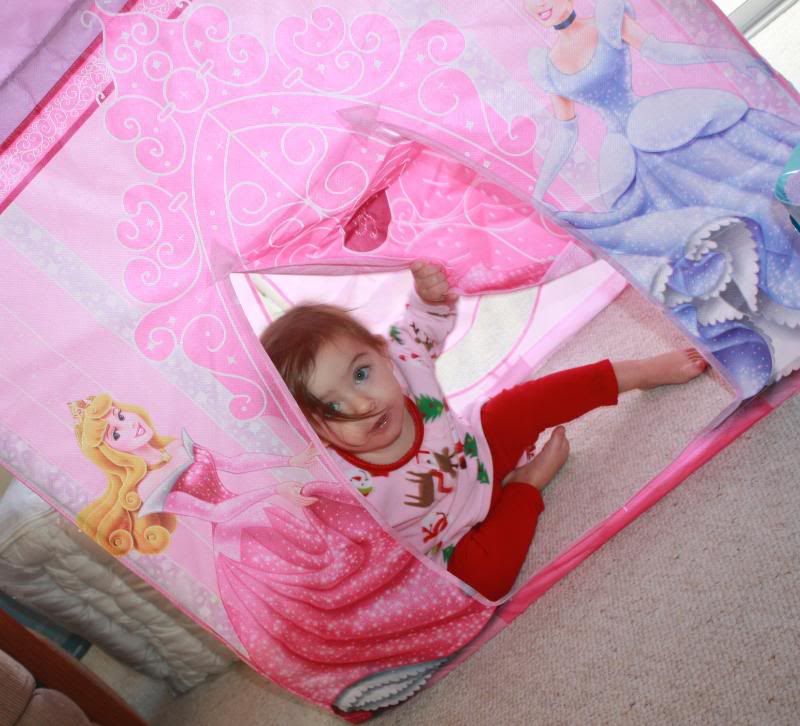 we had such a great christmas, i'm so glad my mom got to come up and celebrate and adam was home and we were all healthy and happy.
i have lots more to write about, but i am so tired still.
signing off
goodnight
xoxo,
Abbey
Posted by

Abbey Bernardi
at 12:08 AM
0 leave a comment here

Sunday, December 13, 2009
today bayley said "squash" and "triangle"
i can't believe how many words she is saying. her favorite word is "more" pronounced "moaaa" like she has an east coast accent. she also loves "balloon" and "milk" and a hundred other i can't think of right now.
my favorite is pumpkin, pronounced "mucky" i've saved a small pumpkin from hallooween just so i can hear her say it from time to time.
she really understands everything we say to her and it's so impressive since she's still just a tiny baby hehe
she loves cuddling when we put her to bed, it's the best thing in the whole world to just feel her little arms wrap around your neck and say "awwwwww"
when you aske her to sing the alphabet she says "a" (hey it's a start!)
she loves listening to her "toddler tunes" and i now am singing them in my sleep, but a peaceful car ride is nice, so i don't care.
she will laugh anytime she hears someone laughing, she LOVES to laugh. Adam ticles her til she turns purple and she says "morrre"
she says cheese when she sees my camera
she is living up to her name as "tiny dancer" and then some!!! this girl can dance, and she has rhythm too. she runs to the bedroom where she exclaims "da" "da" (dance) and i turn it on and she smiles with all 16 teeth and starts boogying and shakin' her tush, it is pure entertainment and guarantees your cheeks will hurt from smiling/laughing so hard.
she had her first babysitter (other than family) a couple weeks ago and did great
when she see's a "puppy" she starts panting and barking, a week ago i took her to the dog shelter and she didn't want to leave. i asked her what she wanted thinking a snack or juice and she exclaimed "puppy" oh goodness, how will we resist??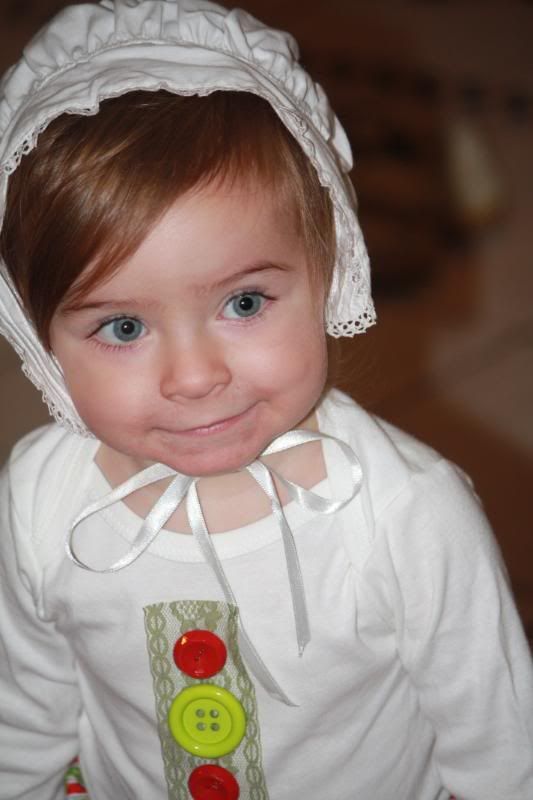 Dear Bayley,
I can't believe you are 18 months old today. Yes, it has gone by fast and I catch myself thinking aboout when you were so small and just laid on my chest and how precious those moments were, but then I think, we still have moments like those and we will have more. So I won't be sad that my little baby is not so much a baby anymore, I will be grateful for our special bond and how lucky I am to have watched you grow this much. You are so smart, from the time you were very small I knew it. You never would fall for the baby talk, you knew exactly what was going on. You are my sweet little social butterfly and I love you more than you know. Stay feisty!!! And keep that curiosity and creativity with you always. And keep laughing, it will keep you young forever. I can't wait to see your spunky little personality grow even more. I love you always Bayley boo.
Love,
Mama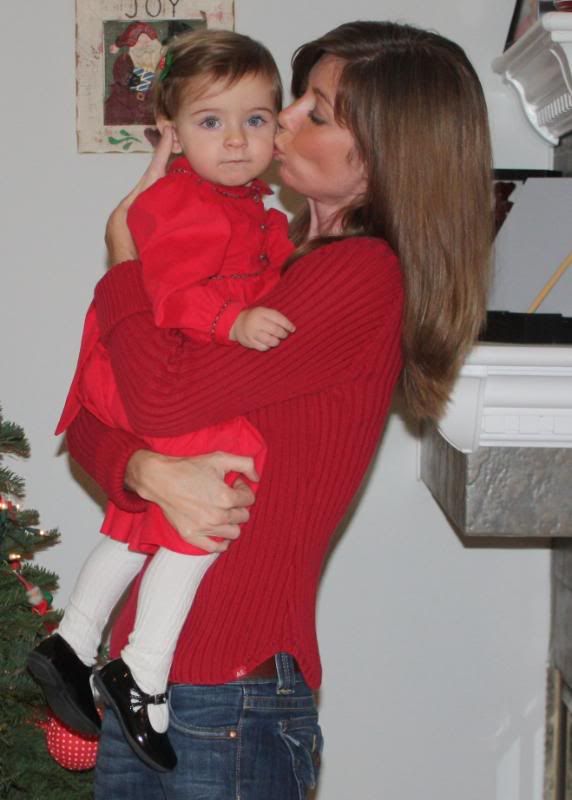 so we went to san diego for a couple days, way too short of a visit but we had fun seeing grandma and our friends. we went for walks at night to see the christmas lights with grandma and now everytime bayley sees christmas lights she says "maga?" (grandma)
i asked bayley what she needed today as she was being a little fussy and she said "cookie?" in a questionable tone like maybe that would help. even my crazy pmsing self couldn't help but laugh and give her a big kiss and a cookie.
Happy One and a half Bayley!!! You're a big girl!!! (but still my baby)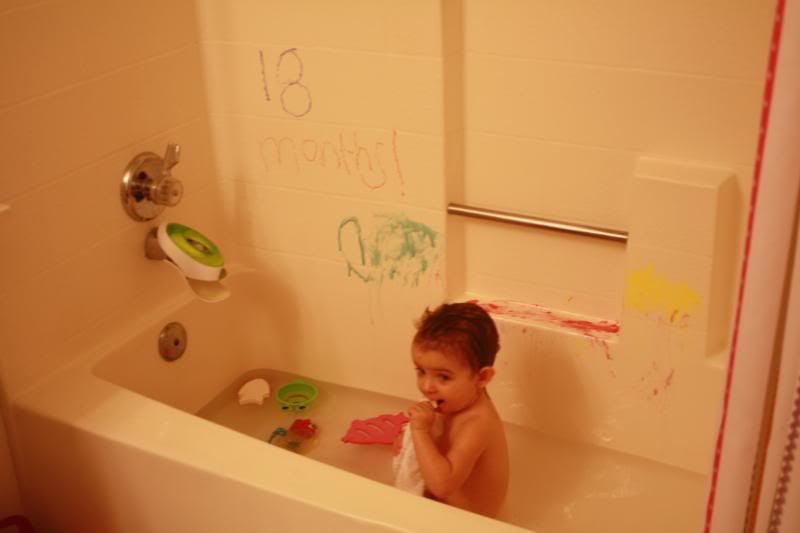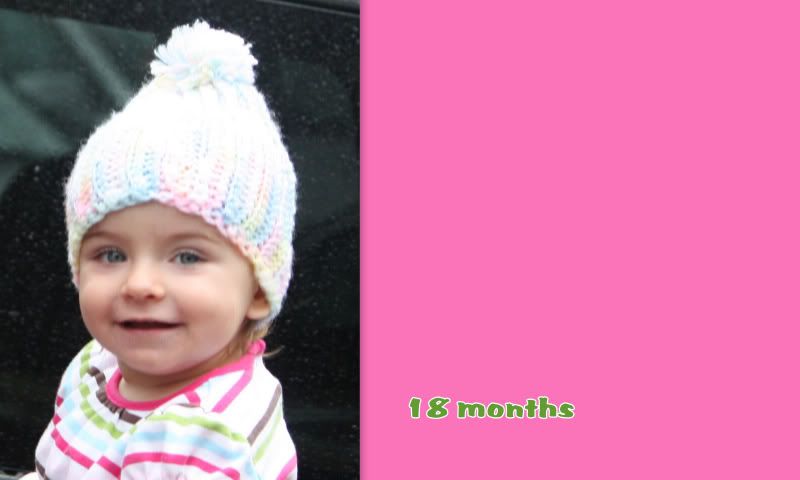 hmmmmm....i think adam is scared of me and my crazy moods, he went to bed at 830. i love you sweetheart
oh and i ran tonight!!!!(oh how i needed that) for like 15 minutes!!! the first time in a long time!! i forgot how good that burning sensation through your whole body feels, it's like waking up every cell in your body and feeding them jalapenos. i think i shall try again tomorrow if i am able to walk.
g'night
Posted by

Abbey Bernardi
at 6:54 PM
0 leave a comment here

Monday, December 7, 2009
today was a great day, it really was
laundry isn't done, there's still a few dishes in the sink, we had our water and our power out this evening along with a huge storm and the christmas tree is still needing a few finishing touches...(at least we replaced the crazy neon blue led lights, the package said "white" i disagree.
but somehow, i feel incredibly content and at peace with it all. because as bad as it might seem sometimes
.....we are outta control crazy blessed with so much.
as Adam came home from renting bolt cutters for the second time to cut the lock put on our water valve (no fault of our own, landlord was misinformed) our lights went out....we laughed. what else can you do right?? I said "I can't find Bayley, where is she??" she was just sitting on the rug, not crying or yelling or even making a peep. probably confused, possibly meditating. they came on shortly after, we didn't even light candles in the few minutes they were off, just talked as if nothing had happened.
i attempted to take pictures of Bayley and miss kitty in front of our tree, maybe a few turned out amongst the squinty eyed blurred alien faced ones.
i had a dream last night that i went skydiving with a group of people and although it was my idea, i was the only one who wouldn't go.....that seems like it means something
we went out in the rain today and since i forgot that i own an umbrella, everytime the rain would hit bayley's head she said "code, code" (cold)
and "ha" is hot
adam taught her how to sing la la la really loud tonight so as i put her to bed she sang to me for forty-five minutes
she is a dare devil and a climber, i'm scared...
she is still obsessed with elmo and even started calling out for him in her sleep last night, not mama...."melmo" it's about time i get a break.
we ask her "what does santa say??" and she says "ho ho ho"
oh and Adam likes vietnamese food, YAY!!, thanks honey for trying it again and finding something you like. no more eating pho alone.
possibly coming to san diego tomorrow, weather permitting. this storm is rough for us california folks.
pics from adams christmas party
our little monkey
oh and we took a 2 hour family nap this afternoon....heavenly
goodnight happy day, hope to see more of you tomorrow
Posted by

Abbey Bernardi
at 11:34 PM
0 leave a comment here

About Me