"what is that in your mouth Bayley?"
small, white and shiny....???
i quickly do the finger swoop to prevent her from choking on....
her new tooth!!!
it looks like a molar to me, bring on the steak dinner.
and the other one erupted last night i think.
she has 8 teeth on the bottom already, and 4 on top.
no wonder the other day she just wanted me to hold her. she was crying so bad and i suspected teething troubles. she woke up from her nap in the stroller and she was still sleepy so we went and layed down on the bed and she didn't want to nurse and she didn't want her binky she just wanted to lay on top of me and for me to hold her. i couldn't resist just laying with her and holding her little body close to mine. soon she won't be small enough or even want to snuggle. i remember when she used to lay on my chest and fall asleep when she was a newborn, i cherished those moments so much because i knew she would be a big girl in no time.
she is such an affectionate and sensetive little thing. lately she has been giving the biggest hugs and it just melts your heart. she even throws in a drawn out "awwwwww" and nestles her face into yours sometimes. it's pure heaven.
oh how i love this little angel!!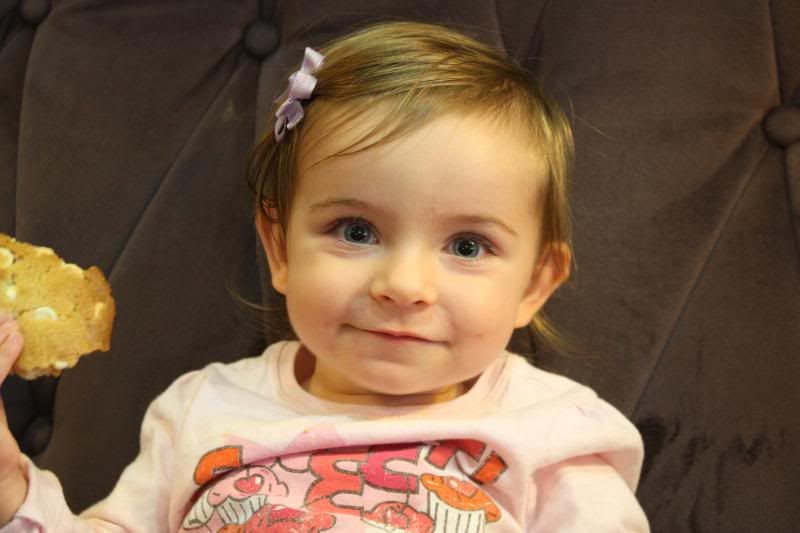 and her mama is learning how to sew.
my grandma gave me a sewing machine and showed me the basics...
and now i'm becoming so confident that i told my mom how i would like to re-invent sewing!!! who needs a pattern?? i've got so many ideas, i have no room for patterns and rules, haha.
so far i have finished a blanket for bayley, which i used the blanket my grandmother simmonds made me as a guide. and made three random pillows which i love so much. they just scream "i'm hand made" and i love that
pom poms should accessorize everything
i am so excited about the holidays and all the coziness and food and fun they bring. pour me a glass of eggnog and give me christmas tree to decorate and i'm as happy as can be....
oh wait, thanksgiving first
then bring on my free range fresh turkey from trader joes and pop open some champagne and i'll get cookin'
one last thing...
last night my mom put bayley to sleep and right as she was nodding off she randomly said the new word she learned earlier:
"gobble"
hehe