13 unlucky?? no way!!! it's my favorite age of miss Bayley thus far.
She is walking all over the place
saying new words everyday and speaking her jibberish all the time, especialy while playing with her toys.
oh and she's pointing AND saying "that?" she wants to know what EVERYTHING is!!
she's a smart one, and everyone else thinks so too.
she knows how to woof woof like a doggy (thanks to the doggy in the condo accross from us that never stops woofing)
she says hi and waves at the same time whilst smiling her radiant go ahead and try not to look at me and tell me i'm beautiful smile.
she plays with her babydolls and gives them kisses and hugs and pats them
she cuddles with mama lots and is extra clingly to mama lately. fine by me!!
she gives daddy the hugest sloppiest kisses ever and lays on the couch with him in the mornings and watches sesame street. "melmo" is her favorite (elmo)
she really loves people more than anything, she is my little social butterfly!!!
she loves swimming in our pool
she has two top teeth (her fangs)
she LOVES strawberries and oranges. she will try almost anything and if she doesn't like it-she spits it out. oh, she ate a scallop at benihanas. she loved that place!!
she loves doing "makeup" with mama.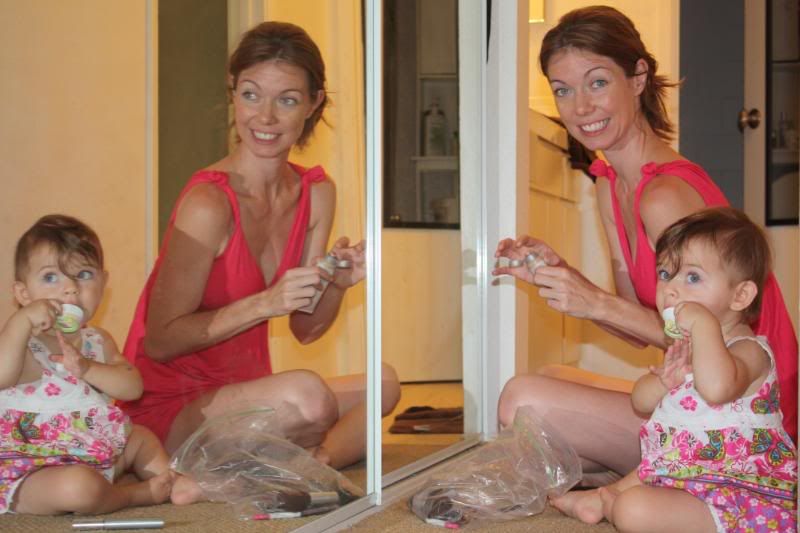 Bayley, you melt my heart countless times a day. I love you so much, I can't seem to kiss your sweet little cheeks enough. You make this world a better place just with your smile alone. I can't tell you haow many times a day people say "wow what a smile" people stop me in the grocery store so much that I can't even get any shopping done. You have charisma beyond belief. I am so blessed to have you as my baby. Thank you for being you, the most perfect baby I could ever ask for.
I love you heart and soul forever.
Love,
Mama